Expectations for CPH Regional – a Player's Point-of-view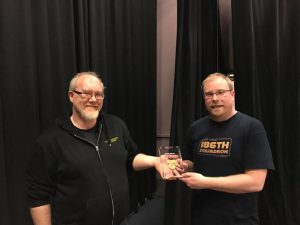 Vince Kingston (TO in the copenhagen Regionals With the Winner Kristofer Bengtsson)
Hi Kristofer and congratulations on winning the CPH Regionals.
Hi, and thank you.
This wasn't your first tournament was it?
No.
How many tournaments have you played?
I've been playing tournaments since Nationals 2013, which that year took place in Malmö for the Nordic countries.  It was there I met most of the Danes, which I now consider my friends, for the first time.  That's the best part with the X-Wing community and tournament scene. Even if it is competitive it is so in a friendly and inclusive way. Since then I've played in at least two Store Championships every year, winning and defending my title in one of my two local stores (belonging to the same chain). I placed top 16 in Nationals 2015 (just as here going 6-0 during swiss) after being crushed by Mike Dennis of the 186th Squadron podcast in the first game in the cut. Again, sparking a great friendship (not only with Mike but also with James Dowdall – whom I had played on Vassal earlier, Oliver Pocknell and Jesper Hills), which lead me to participate in one of the UK try-outs fro their team tot eh European Team Championship 2016 (not actually trying to make the team) as Mike graciously offered me his couch to stay an extra day in London after being there with my job. During that tournament (and the Thursday night at the Warboar game store in London) I met more of the 186h Squadron players, especially Jesper Hills (former UK National Champion), Alex Birth (co-host with Mike of the 186th Squadron Podcast), and Andrew Pattison (winner of the Yavin Open – the largest X-Wing tournament ever).
In addition to these I've played in several Game Night Kit tournaments as well as the Nordics 2016 (which we shall not discuss as I had an abysmal 2-4 record). I have even played a 4 round tournament at the Colliseum of Comics in Kissimmee, Florida in 2014 as I was on a three weeks vacation with the Family to the Disney Parks.
Besides the physical tournaments I have been a frequent participant in the online tournament on Vassal called the Galactic Cup (reaching top 4 in the second installment) as well as in the ongoing global Vassal League. Right now I have cut down on my online tournament play as there isn't enough time.
When did you start playing?
I started in Autumn 2013, just before the release of Wave 3.
Why did you want to go to CPH Regionals?
I have played in at least one Regional in Denmark every year since 2014. Reaching Top 4 in 2014 (after defeating you in the Top8 game if I don't remember incorrectly) , going 3-3 last year with a list (The Pattiswarm) I hadn't practiced with before the tournament as I had already gotten to top 8 in the Malmö one a month earlier and wanted to fly something I hadn't done in a long time, a TIE swarm.
This year I though it was about time someone stopped Mads Barkman Peteresen from monopolizing your Regionals as he had won the four previous ones.

(The prizes from Copenhagen Regionals)
What where your expectations?
My expectations were to have fun, meet a lot of awesome X-Wing players, and hopefully go at least 3-3.
What list did you play?
I played the slim Denfenders. That is a Delta Squadron Pilot with TIE/x7, Countess Ryad with TIE/x7, Push the Limit, and Twin Ion Engine Mk.II, and Colonel Vessery with TIE/x7 and Juke. It comes to 99 points and the last point can be spent on a Twin ion Engine Mk.II on Colonel Vessery if you think you will face a lot of Stress. The name Denfenders is from Mike Dennis as he took it (the 100 points version) to Top 4 at the UK Nationals this year. I bug Mike a lot about suggestions for lists and after my not so amazing result at the Nordics I played a lot of Defender lists. I tried 2 Defenders with Omega Leader or with The inquisitor but in the end the efficiency of the lowly Delta Squadron Pilot was hard to beat. Even in the bad match-ups (yes, there are such a thing for Defenders) against triple K-Wings the extra Hull and Shield the Delta provided in addition to its blocking capability proved the best.
I opted for the 99 points version because I thought I'd see a lot of other Defender lists (two Defenders and Palpatine, 2 Defenders and Omega Leader, or other 3 Defender builds). Most of these are 100 points (especially the dreaded Commonwealth Defenders – which is my list but you replace the Delta Squadron Pilot with a Omicron Group Pilot with the Emperor onboard) and at 99 points I could get the choice of who gets initiative. This proved to be a great decision as I faced two-Defender lists in the cut as well as one in the last round of swiss.
How were the days at The Regional?
Both days were amazing as I went 9-0!
Seriously though, the event was super well run. Vince Kingston, Poul, and the others organizing it did a tremendous job as always. You guys are lucky to have such amazing people supporting the community.
What are your thoughts on the new Tournament structure from FFG (if played Long)?
I think the number of games is good. I'd prefer one-day event as it is easier when you have a family you need to organize stuff around but playing nine games in one go is quite exhausting. Fortunately I have a wonderful wife who lets me leave the house most of the time.
Any players you look up to?
There are several but to avoid having to list them all I'll just pick the one I really admire. Mike Dennis of the 186th Squadron. He crushed me at the Nordics in 2014, gave me a place to sleep in London to be able to play in a tournament there and after defeating everything the UK threw at me he was the one who again bested me. All the players of the 186th Squadron are great players and as they allowed me to join their ranks in late 2016 I finally got the coveted t-shirt, which took me all the way to winning the Copenhagen Regional.
During the weekend of the tournament I told people who were congratulating me on the growing success that it was the t-shirt and Mike's list doing it. Every time I picked up a dial and planned my maneuvers I thought "What would Mike Dennis Do?" and then I did that. And it carried me all the way to victory!
Thank you Mike for making me a better player after defeating me at the 2014 Nordics.
And good luck in future tournaments
Support to keep lindhardgaming.dk going